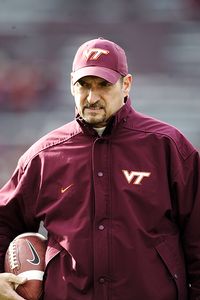 The Roanoke Times
and
Washington Post
are reporting that Bud Foster and Virginia Tech have finalized a deal on a 5 year contract extension that includes an annuity that will only be paid if Foster remains at Virginia Tech through the 2014 season. The details should be officially announced after the Chick Fil A Bowl. Foster's current base salary is $402,000 per year plus bonuses, which will remain unchanged in the new contract besides the annuity.
Gobbler Country
makes the point that this annuity must be a decent sum of money as Foster has said someone would have to pay him "a lot of money" to leave Virginia Tech. Foster is also quoted as saying this deal is "making it worth my while to stay."
Foster has recently received calls from the head coaches at schools including Georgia, Florida, and Florida State regarding open coordinator positions. Yes, Urban Meyer has come after our Bud Foster. Georgia's Mark Richt even had an offer on the table. Foster previously interviewed for the head coaching position at Clemson that Dabo Swinney eventually filled and has recently expressed interest in the head coaching position at Memphis. In 2007, Steve Spurrier offered him the DC position at South Carolina. Foster has said, "Coach Beamer has been extremely good to me and I want to ride this thing out with him." Athletic director Jim Weaver also remarked of the deal, "We just felt very strongly that if Bud's going to be a defensive coordinator, there's no need for him to be a defensive coordinator any place other than Virginia Tech." Foster indicated that in order for him to leave Virginia Tech, it would have to be "the right head coaching job." Foster has previously said that if he left for a head coaching position, he would prefer it to be at a BCS school.
Every Hokie can be happy that it looks like Bud will be here for a while. Now if only Stinespring will leave for that Richmond gig (or anything else, really)...
EDIT: Looks like Stiney didn't get the Richmond job.